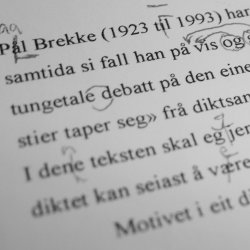 Proofreading means correction of language errors, i.e. formal spelling and punctuation errors. Additionally, I will remove discrepancies and correct syntax errors.
Språkmakaren offers proofreading of texts in Nynorsk and Bokmål, the two official written forms of Norwegian. Please contact me to get a quote for the text in question.
Please note that proofreading predominantly covers the superficial level of the text, and that I also offer copy-editing, which is a more comprehensive examination of the text. It is important to clarify needs and expectations before one decides if a text should be proofread or copy-edited.